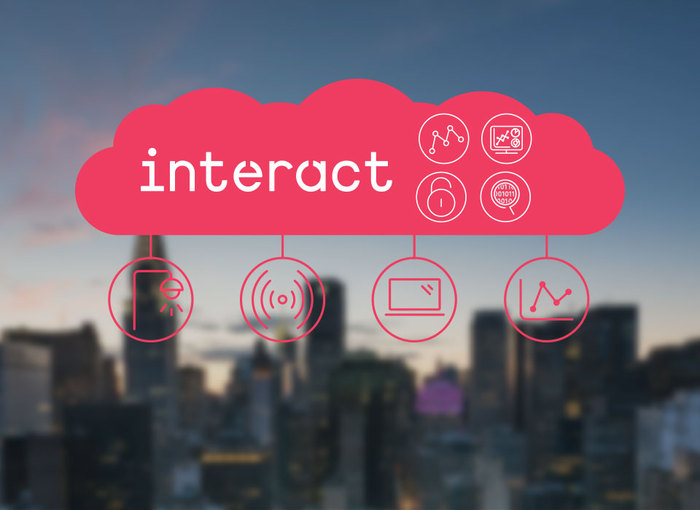 Signify Interact IoT platform is a secure, scalable IoT platform that enables connected LED lighting systems and embedded sensor networks to deliver valuable insights and actionable information. The cloud-based platform allows users to easily bridge their devices to the Internet and handle data collected from the growing number of connected light points, sensors devices and systems. Interact IoT platform facilitates interaction and communication by harvesting the data from connected sensors and lighting nodes using cloud computing, big data, machine learning, and semantic technology. This in turn can enable the development of contextually-aware capabilities and adaptive services that will deliver benefits beyond illumination.
Internet of Things (IoT) offers intriguing possibilities with its ability to bring together intelligent control, bidirectional communication, network connectivity, scalability and flexibility. The lighting industry continues to make the transition to LED technology which is concurrently and increasingly integrating networked lighting controls for optimized energy management and adaptive lighting. LED lighting that is comprised of solid state light sources and circuits dooms itself the vital part of an IoT infrastructure. However, issues such as data management and system security are key challenges for massive deployment of IoT-enabled smart lighting. Smart connected infrastructures, whether in cities, industry sectors, retail environments, or homes, generate large amounts of data. The Interact IoT platform provides a data management architecture that efficiently, securely controls, protects, delivers and enhances the value of data and information assets.
Where there's light, there's insight. The Interact IoT platform is designed to unlock the full potential of connected lighting for the IoT and bring sense to all manner of data. The platform balances security and convenience to bring a suite of benefits including: managing user and device security, authentication, and authorization; enabling the upload, storage, governance and analysis of data; powering real-time, historical and predictive analytics; and generating insights and reports. The IoT platform offers a developer portal which is ready to enable a myriad of services through open APIs so that third-party developers can create innovative data-enabled services.
Interact is also the brand name of the IoT-ready connected lighting systems designed to facilitate customers' efforts in improving lighting experiences. These systems share a general architecture that includes lighting instrumentation, networking hardware and software, management and monitoring software, cloud services, APIs, and a data analytics platform. Interact systems offer end-to-end connected lighting solutions that address these industry-specific sectors:
Interact Office
Interact Office connect lighting solutions turn office spaces into a smart sustainable workspace with software that allows you to increase building efficiency and employee productivity. Interact Office Scene management allows facility owners to create a cohesive environment that enables employees to perform tasks comfortably, effectively, and safely. Different light recipes balance ambient, task, accent, and decorative lighting to generate positive working atmospheres for concentration and brainstorming. With lighting management software, users can take complete control of lighting across multiple floors, buildings, or sites for maximum functionality and energy efficiency. Interact Office uses the lighting infrastructure and real-time occupancy data to achieve hyper-accurate indoor navigation. An intuitive dashboard simplifies the user interface with the lighting systems and allows the user to optimize lighting operations remotely. Space management software can capture and analyze building occupancy data to create a workspace optimized to lower real-estates costs without compromising an efficient workplace and engaged employees. Interact Office Bio-adaptive lighting enables human centric lighting (HCL) that brings the dynamics of natural light back to the office day as well as promotes creativity and communication of the employees in the office.
Interact City
IoT-enabled smart lighting systems are a core part of any smart city strategy. Interact City connected LED lighting system and management software provide a robust infrastructure to improve the efficiency and quality of city services while reducing energy costs and increasing efficiency. Simple software management tools enable automatic dimming and adaptive time-of-day operation for maximized energy efficiency. They also provide safety, security and parking management. Beyond the capabilities for advanced lighting controls, Interact City support a range of non-lighting municipal applications including public safety, traffic management, emergency response, environmental/air quality monitoring, and extended Wi-Fi and cellular communications. Interact City allows for high efficiency and low cost fault management and system maintenance by enabling clients to centrally commission and manage smart light fixtures via a cloud based interface. Interact City smart lighting systems turn every lamppost into a city sentine which continually monitors and alerts emergency services when unexpected traffic, sound or crowd noise is detected. Its long-term data collection supports predictive analytics so the user can anticipate and reduce incidents.
Interact Retail
Retail lighting has undergone a dramatic transformation as brands and retailers are constantly adapting to new technologies for the purpose of creating a more engaging shopping experience while achieving lower maintenance costs and more efficient energy use. Interact connected retail lighting solutions create new operational efficiencies, deliver enhanced store experience and generate data for in-depth retail analytics. Smart scene management offers a full palette of options to create an inviting and comfortable environment by using light recipes and zoning to highlight promotions, and triggering specific shopper behaviors through zoning and layers of light. Indoor navigation and location analytics enable location-based services and improve store layout and operations while supporting staff efficiency with improved workflows. Interact simplifies lighting management and energy optimization with an intuitive app that configures, groups and schedules lighting.
Interact Industry
Manufacturing facilities require lighting systems that support a safe and productive manufacturing environment while delivering exceptional flexibility to meet today's regulatory and environmental challenges. Interact Industry provides a platform for centralized lighting management so that so that facility owners can optimize efficiency, maximize energy savings and improve productivity and safety. Interact Industry software generates real-time data and insights for streamlining logistics, reducing downtime, optimizing order picking and improving traffic flows. Interact Industry scene management improves productivity and operational safety through light settings that can be adapted to task, time of day, or shift patterns. The indoor navigation feature optimizes productivity and safety by accurately tracking people and assets across a facility. Open APIs enable integration with other facilities and management applications in the digital ecosystem in order to exchange data or control lighting from a different user interface.
Interact Landmark
Create a unique city identity and increase civic pride with dynamic architectural lighting managed through Interact Landmark software. The system creates light shows to bring out the best in the appearance of all urban architecture and landscape settings. Dynamic lightshows created using Interact Landmark Scene management turns buildings, bridges and monuments into memorable landmarks. Trigger light shows from anywhere from a web app optimized for mobile device and content management software. Interact Landmark Lighting asset management makes it possible to create robust asset inventory and repair logs, track hardware changes and system performance.
Interact Sports
The Interact Sports software and system architecture provides a single interface with real-time data to monitor, manage and coordinate all your lighting infrastructure from pitch lighting, entertainment light shows, hospitality areas and exterior architectural lighting. Interact Sports Scene management creates a stand-out fan experience and sensational TV viewing. Improve crowd control and safety with Interact Sports Crowd management which uses IoT sensors to collect aggregated data and insights into people flows. Interact Sports Indoor navigation technology allows location-based services like seat location, facility information, special offers and promotions. Bio-adaptive lighting delivers an immersive experience that improves athlete focus and wellbeing.
Interact Hospitality
Interact Hospitality delivers real-time operational transparency for enhanced guest experience while improving staff efficiency and saving energy. Connected LED lighting with scientifically validated bio-adaptive lighting recipes delivers exceptional guest experiences and mood-enhancing lighting scenes in the most cost effective and sustainable way. Interact Hospitality software integrates with HVAC, property management system (PMS) and other systems for streamlined operations and improved guest services. Its environmental monitoring module measures in-room temperature and humidity and sends automatic notifications if rooms become overheated, undercooled or exceed humidity targets. Complete visibility of hotel operations via the Interact Hospitality dashboard allows for optimization of staff efficiencies.
Interact Pro
Interact Pro is an intuitive app and dashboard specifically designed to work seamlessly with Interact Ready LED luminaires, lamps and sensors from Philips. Interact Pro brings the power of connected lighting to small and medium sized business. The connected lighting system offers installers a risk-free route to new connected lighting business at significantly lower project cost than before. The intuitive cloud-based software automates lighting and allows remote management via the Interact Pro dashboard. The Interact Pro gateway connects the system to the cloud via the Internet and establishes secure wireless ZigBee connections with up to 200 light points. With the Interact Pro app and dashboard, the lighting vendors or installers can help their business customers interpret a wealth of information, such as energy usage, light settings and automation. And that way, they can take on the role of a trusted advisor and give business owners the insights to optimize connected lighting.